2021 Cadillac Escalade is Completely Redesigned for a New Generation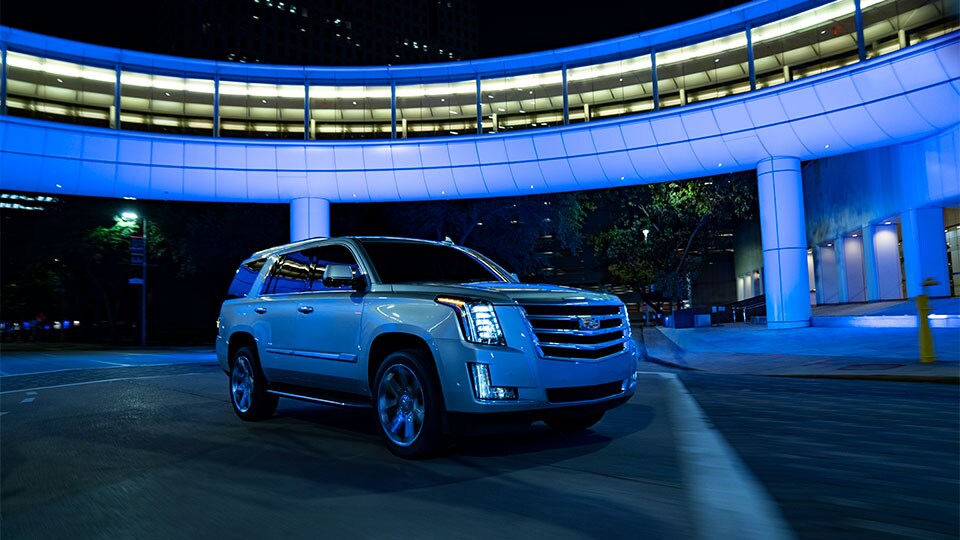 Cadillac is redesigning its flagship luxury SUV for the 2021 model year, promising an upgraded experience with more refinement and capability than ever before.
The original Cadillac Escalade made its debut more than two decades ago. In the years since, the Escalade nameplate has come to define the American luxury SUV segment more than any other. Blending truck-like durability and performance with high-end features and premium looks, the Escalade fills a very distinct role in the automotive world. With the 2021 redesign, Cadillac is doubling down on the Escalade's strengths. The new model is more luxurious than ever while continuing to deliver impressive capability.
The 2021 Escalade will be available for purchase near Livonia and Novi later this year. If you're eager to get one for yourself, reach out to Suburban Cadillac of Plymouth near Detroit and Northville to reserve a model ahead of time.
What's New in the 2021 Escalade?
The 2021 Escalade is new nearly every way. For starters, the luxury SUV has fresh new styling that mirrors the design language that's been seen popping up throughout the Cadillac lineup. Peel back the exterior and you'll find that the Escalade still rides on a traditional body-on-frame chassis. However, the new model swaps out the archaic solid rear axle in favor of an independent suspension setup. This move offers far better ride quality and handling while still allowing for great towing capacity. Cadillac is also offering an available 3.0-liter diesel engine in the Escalade for the first time.
2021 Cadillac Escalade Design and Features
The new 2021 Escalade brings a ream of enticing features to the table. From premium materials and craftsmanship to ergonomic cabin design, this luxury SUV clearly caters to passengers' needs.
As before, the 2021 Escalade will be a full-size, three-row SUV. It's a premium vehicle that can carry the whole family with ease. And your family will have plenty of features to enjoy as well. A panoramic sunroof provides great views and natural lighting. Upscale leather upholstery reaches all the way back to the third row of seats. A wide variety of trim materials like Linear Tiger Wood, Zebra Wood, and Natural Figured Ash Wood add visual flair to the space.
Luxury and comfort aren't the only attributes in the 2021 Escalade cabin. The SUV also has folding rear seats that can go nearly flat for exceptionally easy cargo loading. The 2021 Escalade ESV is particularly impressive with its maximum 142.8 cubic feet of cargo space.
2021 Cadillac Escalade Performance
The 2021 Escalade continues to offer outstanding power and performance. The new model uses a new independent rear suspension setup to produce better handling and a smoother ride quality than previous generations. Add available Air Ride Adaptive Suspension and your Escalade will be able to minutely adjust for variations in road conditions around Canton, MI or other local towns. There's even an available Electronic Limited Slip Differential.
Pop the hood and you'll find a familiar powerplant. The 6.2-liter V8 engine carries over from the previous generation, bringing its impressive 420 horsepower and 460 pound-feet of torque along with it. It's mated to a standard ten-speed automatic transmission that balances efficiency, smoothness, and responsiveness. The big news is the newly available 3.0-liter Duramax diesel engine that packs a generous helping of low-end torque while delivering compelling efficiency.
2021 Cadillac Escalade Technology
The new Escalade boasts some innovative and exciting technology features. To start with, it has a unique 38-inch OLED curved display screen that stretches across the dashboard. This single, customizable display acts as your gauge cluster, infotainment interface, and much, much more. And it has impressive resolution as well with more than twice the pixel density of a 4K TV.
The new Escalade also offers available Super Cruise. This hands-free driver-assist feature makes highway cruising as simple as ever on compatible freeways.